EVERYONE HAS A STORY.
Have you ever experienced something so hilarious, painful, or thoughtful, it was worth retelling?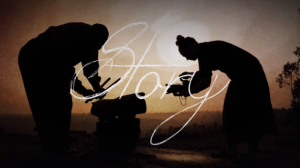 We each have a personal story to share, an account to bring to the collective table. Maybe your story can serve as a warning to others or perhaps to encourage those around you. The truth to remember is we each have something to share. God has a great plan and purpose for each of us, and we need to be sharing it.
EACH OF OUR STORIES MATTER.
When we use our hardships, our trials, our perseverance to help one another God is glorified. We see this played out with the story of Joseph found in the book of Genesis. His brothers sold him into slavery and he ends up in prison on false charges. Joseph is eventually released from jail and serves as Pharaoh's right hand man. When he was finally reunited with his traitorous brothers he says the most amazing thing to them: "You intended to harm me, but God intended it for good to accomplish what is now being done, the saving of many lives." (Genesis 50:20)
God used Joseph's seemingly tragic story for good: the saving of a nation. Here's the crazy thing, God wants to do the same with our personal stories. He can use our lives and experiences to redeem those around us.
USE YOUR STORY TO START A CONVERSATION.
It's not enough to have a great experience and keep it to yourself. The power of your story comes in the sharing of it. Your story can be the starting point to someone's spiritual journey.
-Be Blessed!!