It's Fall in North America and elsewhere—a time of harvest.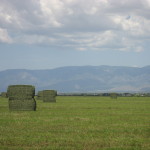 I baked an apple pie last weekend with apples picked from my friend's apple trees. Pumpkin patches are full of children picking just the right pumpkin. In general, many of us are enjoying the fruits of our own or others' labors.
This morning I came across the passage in Scripture which says, "The harvest is plentiful, but the laborers are few." (Luke 10:2) It was not so much the sentence itself that caused me to stop and think, but rather all the words around this well-known verse.
If you have a moment, read Luke 10:1-12:
After this the Lord appointed seventy-two others and sent them on ahead of him, two by two, into every town and place where he himself was about to go. And he said to them, "The harvest is plentiful, but the laborers are few. Therefore pray earnestly to the Lord of the harvest to send out laborers into his harvest. Go your way; behold, I am sending you out as lambs in the midst of wolves. Carry no moneybag, no knapsack, no sandals, and greet no one on the road. Whatever house you enter, first say, 'Peace be to this house!' And if a son of peace is there, your peace will rest upon him. But if not, it will return to you. And remain in the same house, eating and drinking what they provide, for the laborer deserves his wages. Do not go from house to house. Whenever you enter a town and they receive you, eat what is set before you.  Heal the sick in it and say to them, 'The kingdom of God has come near to you.'  But whenever you enter a town and they do not receive you, go into its streets and say, 'Even the dust of your town that clings to our feet we wipe off against you. Nevertheless know this, that the kingdom of God has come near.'  I tell you, it will be more bearable on that day for Sodom than for that town. (ESV)